The Saratoga Sun
FFA builds bird ladders for PCW
By KayCee Alameda
May 18, 2011
Page 7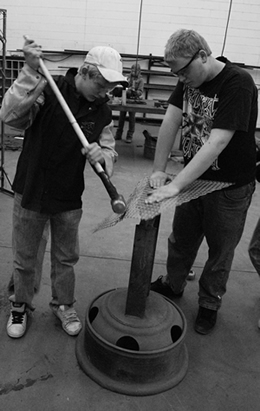 Tom Stockwell and Mark Lake bend a bird ladder into shape
at the Saratoga High School Ag shop last week.
(Photo by Tom Dixon,
The Saratoga Sun
.
Reposted with permission.)
In taking steps to conserve sage grouse across The Overland Trail Cattle Company ranch (TOTCO), Power Company of Wyoming (PCW) teamed up with students from the Stewart McPhail Future Farmers of America (FFA) chapter to create "bird ladders" for the stock tanks on the ranch.
The bird ladders will reduce the risk of the sage grouse drowning if they have flown or fallen into a stock tank on TOTCO.
FFA advisor Laurie Woolfolk said the ladders are being constructed from expanded metal, provided by PCW, and bent into an inverted half-cone shape by several FFA students.
According to literature provided by PCW, the ladders are positioned at the edge of the stock tank and not only reduce the chances of a bird drowning, but also help to increase the quality of water within the stock tank.
PCW representatives said the bird ladder project allows the company to partner with local education programs, such as Saratoga FFA to promote and teach wildlife conservation in Carbon County.
PCW's conservation plan also includes removing woven wire fences to avoid sage grouse collisions and marking fences to make them more visible to the birds, to name a few.
For information on PCW and its sage grouse conservation efforts, visit their website, www.powercompanyofwyoming.com.
Reprint permission granted by The Saratoga Sun.
Stay informed

Join our email list to receive periodic updates and meeting notifications.

Follow us on Twitter for updates.
---
BLM Wyoming cites PCW efforts in its BLM Fact Sheet about "ongoing collaborative sage-grouse conservation initiatives."
---
It's Time
A video overview of PCW's wind power project is now online.
---
Media contact
Members of the media with inquiries about the PCW wind energy project should contact
, Director of Communications, 303.299.1395.
---
---
BLM Environmental Assessments
From 2013-2015, BLM prepared two separate site-specific Environmental Assessments, both tiered to the project-wide Environmental Impact Statement completed in 2012. Review our archives of the BLM's public scoping documents:
---
Additional links