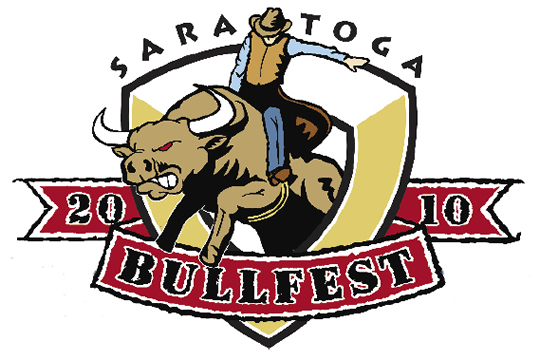 PCW supports 2010 Saratoga Bullfest competition
Aug. 25 – Power Company of Wyoming LLC and Pepsi were the Presenting Sponsors of the
2010 Saratoga Bullfest
, held Aug. 21 at Saratoga's Buck Springs Arena. An estimated crowd of 620 people came out for top-quality bullriding and rodeo-style fun during this 10th annual community event. More than 30 bullriders competed for nearly $10,000 in cash prizes as well as the Bullfest buckle.
Cooperating sponsors were the Saratoga Lions Club and the Carbon County Visitors Council.  As part of its sponsorship, PCW hosted an exhibit area to provide information and answer questions about the company's proposed 2,000-3,000 megawatt wind power project to be located northeast of Saratoga.
Stay informed

Join our email list to receive periodic updates and meeting notifications.

Follow us on Twitter for updates.
---
BLM Wyoming cites PCW efforts in its BLM Fact Sheet about "ongoing collaborative sage-grouse conservation initiatives."
---
It's Time
A video overview of PCW's wind power project is now online.
---
Media contact
Members of the media with inquiries about the PCW wind energy project should contact
, Director of Communications, 303.299.1395.
---
---
BLM Environmental Assessments
From 2013-2015, BLM prepared two separate site-specific Environmental Assessments, both tiered to the project-wide Environmental Impact Statement completed in 2012. Review our archives of the BLM's public scoping documents:
---
Additional links