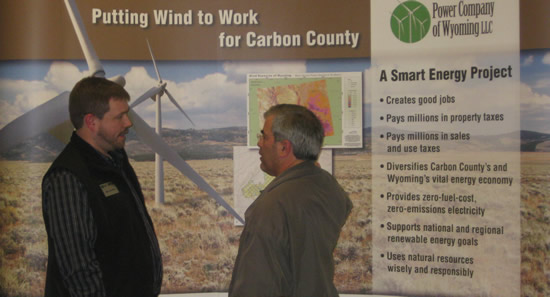 PCW's wind engineer, left, outlines project details to a Rawlins city official.
Great turnout, great questions, great support at PCW open houses
March 20, 2010 – Nearly 200 people from across Carbon County and the region attended Power Company of Wyoming's community open houses, held March 17 in Saratoga and March 18 in Rawlins.
The casual events were designed to allow citizens to stop by at their convenience, pick up information, ask questions, and simply learn more about PCW's Chokecherry and Sierra Madre Wind Energy Project.
Posters and handouts covered multiple topics including:
The millions of dollars in estimated property taxes, sales/use taxes, and electricity taxes anticipated from the wind power project. Over 20 years, the estimated total taxes will equate to well over half a billion dollars going to the state, to Carbon County, to other Wyoming counties, and to incorporated cities and towns.
Basic information about wind turbines, such as how they work and the careful planning behind their placement.
An overview of the at least 114 permanent jobs and hundreds of construction jobs to be created. The permanent jobs would make Power Company of Wyoming one of Carbon County's largest employers.
An overview of PCW's wildlife conservation plan for wind development and for ongoing operations on The Overland Trail Cattle Company ranch, where the wind project will be located.
In addition, the PCW team circulated among the crowds – which included city, town, county and state employees; elected officials; ranchers; teachers; local business owners; and many other interested citizens – to explain various aspects of the wind project and to answer questions.
"The majority of feedback from residents attending a forum Thursday was positive," wrote the Rawlins Daily Times in a story published March 19.
Doug Estes, co-owner of the Rawlins Hampton Inn, told the Daily Times, "These people are leading the way for clean energy in the county and in the country. It has so many positives it doesn't make any sense not to get started."
Hosting each event were the Platte Valley Community Center in Saratoga and The Depot in Rawlins. Stumpy's restaurant, based in Saratoga, catered both complimentary barbeque brisket meals provided at the open houses.
- XXX -
Stay informed

Join our email list to receive periodic updates and meeting notifications.

Follow us on Twitter for updates.
---
BLM Wyoming cites PCW efforts in its BLM Fact Sheet about "ongoing collaborative sage-grouse conservation initiatives."
---
It's Time
A video overview of PCW's wind power project is now online.
---
Media contact
Members of the media with inquiries about the PCW wind energy project should contact
, Director of Communications, 303.299.1395.
---
---
BLM Environmental Assessments
From 2013-2015, BLM prepared two separate site-specific Environmental Assessments, both tiered to the project-wide Environmental Impact Statement completed in 2012. Review our archives of the BLM's public scoping documents:
---
Additional links