Sept. 26, 2012 –About 150 people from Carbon County, Albany County, Sweetwater County and Natrona County attended Power Company of Wyoming LLC's seven community open houses held throughout the month of September.
The casual events were designed to allow local governments and citizens to stop by at their convenience, pick up information, ask questions and provide written comments for PCW's consideration regarding the company's proposed Chokecherry and Sierra Madre Wind Energy Project.
Following the release of a Final Environmental Impact Statement from the U.S. Bureau of Land Management in July – a document reflecting more than four years of comprehensive analysis addressing a wide range of environmental matters – PCW is now applying for a permit from the Wyoming Industrial Siting Council to construct, operate and decommission the proposed wind project. In connection with this process, the Industrial Siting Division identified a "study area," which includes communities in the project vicinity, and PCW mailed notices regarding the wind project and these informational meeting opportunities to more than 250 local government entities across the four counties.
Attendance was strongest at the community open houses closest to The Overland Trail Cattle Company ranch, site of the proposed CCSM Wind Energy Project. Nearly 40 people came to Rawlins on Sept. 18 and more than 60 people came to Saratoga on Sept. 19 to ask questions, offer comments and share their support. Hosting each event were The Depot community center in Rawlins and the Platte Valley Community Center in Saratoga. Cactus Jacks, based in Rawlins, catered the barbecue dinners that PCW provided at these two meetings.
Other open house meetings were held Sept. 9 in Baggs, Sept. 10 in Medicine Bow, Sept. 10 in Laramie, Sept. 24 in Rock Springs, and Sept. 25 in Casper.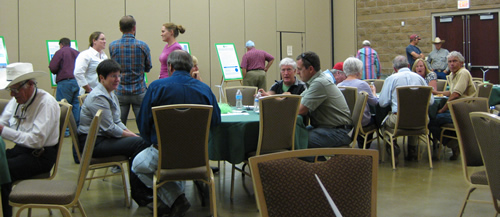 At all of the meetings, informational posters and handouts covered multiple topics including:
Basic information about wind turbines, such as how they work, the careful planning behind their placement and the areas where they would be confined within the Overland Trail Ranch.
The project's economic benefits to Carbon County and to Wyoming, including thousands of construction jobs, at least 114 operations and maintenance jobs, and millions of dollars in estimated property taxes, sales/use taxes, and electricity taxes distributed to the state, to Carbon County, to other Wyoming counties, and to incorporated cities and towns.
Details on PCW's wildlife conservation plan and conservation measures designed to avoid, minimize and mitigate potential impacts on wildlife and ecological resources.
Visual simulations showing how the wind project would look from various observation points.
PCW anticipates filing its permit application with the Wyoming Industrial Siting Division in November.
In addition to these seven open houses, since the wind project's inception BLM has held four public scoping open houses in August 2008; PCW held two community open houses with dinner in March 2010; and BLM held two Draft EIS open houses in August 2011. PCW representatives also have discussed the project at more than three dozen county, municipal and special district public meetings.
For more information about PCW and the Chokecherry and Sierra Madre Wind Energy Project, including its recent White House designation as a "nationally and regionally significant wind energy project," visit www.powercompanyofwyoming.com.
- XXX -